Examples of our Clapboards
Monitor Barn, Richmond Vermont
Home of the Vermont Youth Conservation Corps
Monitor Barn Before the Renovation
Renovation
After the Renovation
---
Farmhouse, Pulaski, NY
---
Sharlot Hall Museum, Prescott, AZ
Heritage Restoration Inc., Providence, RI
---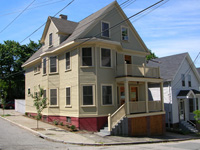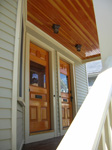 ---
When it comes to owning a home, we want the best. When you invest in a home, you plan to make it yours and that comes with repairs, remodeling and ways to upgrade the inside and outside. If you are looking to change the look of your home, you have come to the right place. Ward Clapboard Mill is a dedicated and professional company that makes authentic
pine wood siding
and clapboards.
Clapboard
has been used for many years and since it is made out of wood, it will remain strong through weather, wear and tear. We take logs and cut them into perfectly matched pine clapboards. Although it's an extensive process, it is one that we are proud of and have been doing for four family generations. We also make
spruce clapboards
. Pine and spruce woods are the most common woods used for clapboard because of their look and durability.
We have a variety of before and after photographs on our website for your viewing. You will be able to see the transformation of going from no siding to clapboard siding. We guarantee you will be intrigued by the look that clapboard makes. Our mills create the finest
clap boards
on the market. Now is the time to take advantage of our great services.
Please feel free to browse through our website for additional information on our pine wood siding and clapboards. We welcome you to contact us with any of your questions or concerns. You can't go wrong with choosing
clapboard siding
; the benefits far outweigh anything else. We look forward to hearing from you and helping you to change the look of your house today.